Erik and his team are awesome! I am a CPA that needed a new website created quickly for the tax season. I explained my vision and Erik and his team brought it to light in less than 2 weeks.

I would recommend him to everyone I know and plan to have 2 more websites created by him.

read more
brandi hills
17:08 15 Feb 18
Erik and his team did a phenomenal job from start to finish! As I was searching for web designers, he stood out from the rest because of his professionalism, expertise, and interest in

working with us on a long-term basis. As we were working on developing our website, he was attentive and prompt with all of our requests. He was also able to stay within our budget and was mindful of our needs, which was a huge plus for us. Our website is awesome, and we couldn't be happier with it. I love that Erik and his team are easily accessible and available to make any future changes to our website whenever we need them. I would highly recommend Erik and Surf Your Name to anyone looking for a website designer!

read more
L. Karina Garcia-Bravo
21:19 06 Oct 17
Erik was quick to respond, extremely affordable, agreed to work with a not-typical platform, and finished the job in less than 24hrs. I was extremely satisfied with his correspondence

throughout the process, and the quality of the end product. My site went from looking wonky to professional. Couldn't ask for more!

read more
liesel polizzi
13:10 02 Feb 18
Excellent communication and responsiveness from start to finish! Our project was small, yet important to us and Erik delivered and was helpful along the way. He was very knowledgeable and

was able to break it down into layman's terms. I will continue to do business with SurfYourName and highly recommend!

read more
Lighthouse Painting
21:40 20 Feb 17
I have been a web design customer and IT customer of Surf Your Name for over 10 years now. They have helped me with several business websites, facebook advertising, remote computer help,

and answering my hundreds of questions. I use a computer allot but always seem to need a little help from time to time and all I have to do is make a phone call and they are there to help me! I know I will be with them for many years to come and could not say enough great things about them. If you are looking for computer help, virus removal, web design, website hosting, marketing, or just about anything that you need for your business, GIVE THEM A CALL! You will not be disappointed!

read more
SurfYourName employees were congenial were great about asking specifics, completed the work way before for deadline and were reasonably priced. Not enough stars for these folks!
Louise McMillan
11:47 04 Apr 18
From the start to the finish of the project, the team was always prompt in their responses and provided very eye-catching work. They are open to feedback and really want the customer to be

pleased with the final design. I would recommend them highly for their excellent work and competitive prices, as well as their great suite of services.

read more
Natalie Mann
19:36 06 May 18
Erik and Mia have done an outstanding job! Very knowledgable and reasonably priced. As a small business owner my plate is always full and they always fit me in - top notch!
Rob Reinhardt
08:51 31 Jul 18
Our company needed a page made for our website on a very short deadline. Surf Your Name provided a very quick turn around time and offered consistent communication at every turn. I highly

recommend them for any website needs and will certainly be utilizing them in the future when we need to make additional changes to our site!

read more
Rachel Rutherford
13:57 25 Oct 18
Great experience!Eric and his team setup a website for my business this year. He did a great job translating our conversation into a great looking website. Eric is very personable and

prompt to return phone calls. His prices are reasonable, and I would highly recommend him to anyone looking for help with a website. I am glad to have him on my team and will seek his help with any additional web development needs I have in the future.

read more
Benjamin Pope
16:50 28 Nov 18
Erik and Mia are the best! I needed web developer help because I'm a communications director in charge of our church website, but I don't have the technical knowledge for much of it. They

are the biggest help whenever I have trouble with anything web-related. Plus, they are very quick to respond to questions and inquiries. They are super knowledgeable, creative, and very talented. I'd give them ten stars if I could.

read more
Nashville First Baptist Church
00:00 19 Dec 18
I have been working with SurfYourName for appx 2 years now. Working with Erik and his team has truly been life-changing to say the least for my business. In the beginning, I brought this

team a MESS of a project that someone couldn't deliver on! Erik took a tremendous time in initial consultation and pointing me in the right direction for my business model goals and budget. I also felt extremely welcomed given the fact that myself and my company are LGBT-based. Erik and his team have been sometimes given impossible deadline dates by myself as well as other vendors we've had to work with; and to no surprise, they always managed to prioritize and work it out! The relationship rapport that I have with Erik and his team is one that I wish to transcend across all of my professional engagements. If you are looking for a well-versed, mindfully-sensitive and dynamic web development/marketing team, this is it! You'll be sold after the consultation and wow'd by the follow-up delivery.

read more
Brandon Kennedy
13:19 31 Jan 19
We searched far and wide for a new website designer and when we met Erik with SurfYourname.com we knew we found the one. From day one him and his team have been very professional and easy

to work with. They respond back when you need something and they deliver exactly what they promise within the promised time frame. They are the best!

read more
Andrew Zwolinski
18:49 17 May 19
Erik and his team were nothing short of incredible! Not only were they professional but incredibly prompt to responding to our every need. We presented the team with loose abstract ideas

for a new website and they were able to bring everything to life beautifully in a short amount of time. I hope to work with Surf Your Name on future projects and in the meantime, I would highly recommend their expertise to anyone!

read more
Lauren Titus
17:37 01 Aug 19
I'd highly recommend SurfYourName for any web design needs! Erik and his team are excellent listeners. They meet project deadlines ahead of schedule and do so with great creative talent &

skill. I couldn't be happier that I chose them for my website creation and hosting.

read more
Kathy Stankard
19:14 05 Aug 19
Erik and team did a wonderful and amazing job on my business website! I researched creating my own, viewed many different websites and communicated with competitors for pricing and

details. What pulled me towards Surf Your Name is the creativity, uniqueness and layout of the websites they worked on. They produce beautiful websites that aren't the basic layouts. Erik and team made my website visions come to life!!! I was thrilled with the FIRST draft! YES, FIRST DRAFT! They are a fun and professional team to work with and I look forward to working with them with my current website and other projects down the line. I recommend Surf Your Name to anyone needing website design, SEO or email marketing.

read more
Karin Tamakawa
20:12 06 Oct 19
Great and knowledgeable team. Always extremely responsive and helps me take care of web issues ASAP. Would definitely recommend.
Will Crane
02:00 26 Oct 19
Great team, very professional and responsive.
Sara Djarian
18:21 29 Oct 19
Looking for a Web Design Firm That You Can Trust?
SurfYourName.com takes great pride in providing the best customer service in the industry.  We provide the Simple Solution FIRST!  We respond to emails fast and we answer when you call!
Years of experience in web design, SEO, social media marketing, IT, and many other services.

We provide the Simple Solution FIRST!

We provide fixed price quotes with no surprises.

We specialize in working with other small businesses and your time and budget constraints.

We stay up-to-date on the best and latest technology to help your business get the results you demand.

We provide website design, hosting, SEO, social media management…all in one place and with a dedicated team of professionals.

Most importantly…we LOVE our loyal clients!
Explore the Endless Possibilities in One Company!
Get the best web design, SEO (Search Engine Optimization), Social Media Management, IT, hosting, and business consulting in one place.  Don't be fooled by impostors, our highly experienced and friendly team is here to help you and your business GET RESULTS!
Signup for our Email Newsletter!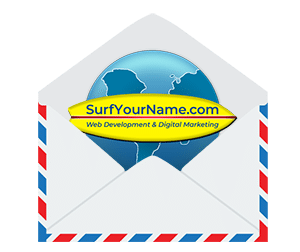 Users Reviews:
Join the long list happy clients of SurfYourName.com and see why they love us so much!
"I don't know what I would have done without them!  They return my calls and are always so helpful.  Would recommend them to any of my friends or colleagues!"  "They do great work, but the best thing is their personal connection. They treat me like family and will do anything they can to help!  You will not find a better web design firm out there!"  
— 
Get Your FREE Quote Today from SurfYourName.com