Thank you for taking the time to get to know us better! We are a small business providing everything you may need to have a strong performing web presence.  Our team has over 50 years of combined web design and website marketing experience, We are a small business and we understand the time and budget constraints of our clients, which we overcome with our flexibility. As a small business owner, your time is very important and in high demand. We take your web presence serious and treat it like our own which gives time back to you to run and grow your business.
We are the experts in our industry which saves you hours of trying to build your own website and web marketing campaigns.  Surf Your Name eliminates the need for small business owners to "settle" for websites designed by friends or family members who aren't trained in search engine optimization, e-commerce, or electronic media. Your website and social media pages will be the first impression many of your customers will get of you and your small business, make sure it's a positive experience.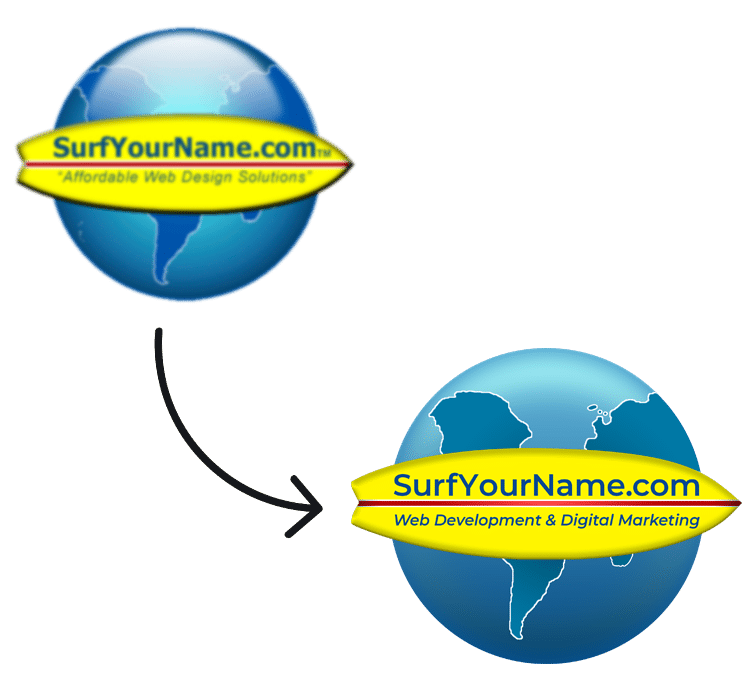 SurfYourName.com began as a small web design firm over years ago with just a few clients and just the owner performing all of the work.  The focus was on helping small business owners build a web presence that delivered results.  It quickly became apparent the demand for reliable web services, like those Surf Your Name provided, was increasing fast and were an integral part of most businesses. The owner of Surf Your Name knew that providing more services was necessary to keep producing success for the firm's growing clients.

Having a website was just not enough in the competitive market any longer. SEO, Search Engine advertising, email marketing, and social media started to change the landscape of how a small business prospered on the Internet. Having a website was just not enough and month by month more business owners chose Surf Your Name to manage their web presence.  With this growth the SYN team had to expand its team.

Surf Your Name had very small and humble beginnings just like most of the small businesses we work with today. We focus on helping small businesses with their website and overall web presence with cutting edge technology and by providing the best 1-on-1 customer service in the industry. You will always talk directly to a real person when you call. We respond to emails and messages fast and always treat our clients like a member of the family. We have one of the highest client retention rates in the industry.

We know if our work makes our clients successful, they will continue to be our clients. We believe in a performance based relationship where we earn our clients return business by helping grow their business. We do everything possible to go above and beyond expectations and this has been paramount to our success and our clients' success.


We have put together a great team of web designers, website developers, programmers, graphic designers, social media experts, and computer technicians to serve our diverse client list.  Being able to offer a one-stop shop for all of our clients needs has been key to our success.  This allows us to offer our clients a wide range of services and have the years of experience to back up our work.
Small Business Web Design

Custom Web Development

Shopping Cart Development

Advanced Programming

Graphic Design

Search Engine Ranking Performance (SERP)

Automated Website Backups

Virus Removals & Protection
Search Engine Optimization (SEO)

Email Marketing

Business Consulting

Website Maintenance

Social Media Management

Full Service Website Hosting

SSL Certificate Installation and Maintenance

On-Site & Remote IT Services