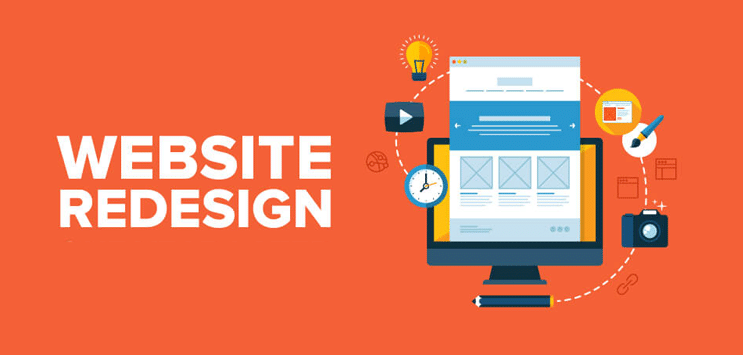 A lot can happen in a year. You move into a new house, get married, start a business, grow as a person or even grow a person! So many changes for us to look back on and say "Wow, I did that," in just a single year.
What about three years or five years? We all change so much, and your business naturally changes with you. Think back to when your website was created. Is it updated to showcase all the wonderful things you're doing now? When was the last time it was updated at all? If you're tilting your head trying to remember, keep reading.
There are tons of reasons to update and redesign your website, we could go on and on. We have an article we published last year that talks a bit more about technical issues that could harm your website if not addressed. You can read all about that at this link: Update Your Website in 2019
This year, we're talking more about how updating your website can earn you more clients or customers. So, let's get started!
Here are the top 5 reasons to update your website in 2020:
Communicate what you do
Improve user-experience
Easily make changes
Integrate with external business software
Improve SEO and site performance
With a website redesign, you have the power to transform your business and work smarter not harder. By partnering with a professional web developer, your website will be unique to you, function seamlessly, and help you accomplish your business goals.
Let's go into a bit more detail on what you can do with a website redesign.
Communicate what you do
You know your business inside and out, but do your visitors? One of the best things you can do is to look at your website from an outsider's perspective, or even have someone who doesn't know your business take a look at it. If you find yourself having to answer key questions like "What do you do?", "What services do you offer?", or confusion about technical jargon, it's time to make a change.
With a website redesign, your content will provide your visitors with all the information they need to k
now about your business, what you offer, and how to contact you to start your services or purchase your products.
Improve user-experience
Did you know it takes about 0.05 seconds for a visitor to decide whether they like your website and decide to stay or leave? And we thought our 6-second attention spans were low! In a few moments, a visitor makes a snap judgment of your website that could be costing you valuable revenue. This is why redesigning your website with the visitor in mind is essential.
85% of adults think a company's website should look as good, if not better on mobile than its desktop version. When we're designing websites, we prioritize mobile viewing because it establishes credibility for visitors looking at your business. By having an optimized layout that is easy to navigate, visitors are more likely to spend more time on your website and follow the marketing funnel that guides them towards converting as a new customer or client.
Easily make changes
You shouldn't have to go through the wringer every time you need to add a product or want to make a simple text change. Simplifying the backend of your website will give you the freedom to evolve it with your business and manage content.
By simplified backend, we mean a visual portal where you can view all your pages, products, and posts. This way, you can easily go in and find exactly what you're looking for when you need to make changes. Or, when things pile up and you don't have the time, let us take care of it! At Surf Your Name, we offer free text and images changes with our maintenance plans, so your website not only runs smoothly and securely but is up to date on all the great things you have to offer.
Integrate with external business software
Does your current website rely on visitors contacting you to make appointments or purchase products? Wouldn't it be easier if everything was done automatically through your website? A website redesign can help you do that!
Visitors are more likely to interact with your business if they can do almost everything online. By linking your existing appointment booking software to your website, you can have potential clients choose the best time for them, giving you more time to provide your services.
We're experts in integrating all kinds of software into websites for our clients. It makes their lives easier and we can do the same for you. It also gives you more information about your clients that you can use to better your services and website in the future.
Improve SEO and site performance
The vast majority of all online traffic comes through search engines like Google. Search Engine Optimization (SEO) is a strategy of optimizing features on your website that communicates to Google that your website is relevant to what people are searching for, which ranks it higher in the search results.
This can have a massive impact on your website performance as the higher your search ranking, the more people go to your website and convert to leads and new clients.
All of these reasons are exactly what your website should be doing: working for your business to bring in more clients or customers. Every business has its own goals and ideas, we want to learn about yours!
At Surf Your Name, we go the extra mile to learn about you and your business because this is not 'just another project.' We consider you part of our family! A website redesign can be a game-changer for your business and we are the perfect team to make it a reality. Take a look at our portfolio of dynamic websites that are currently driving results for our clients. We can't wait to talk with you about your project. Contact us today and let's get started designing your one-of-a-kind website!