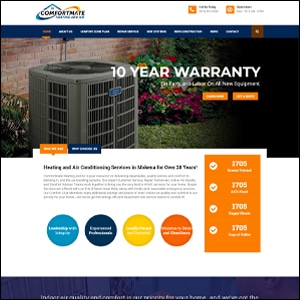 You've heard the term "A band-aid won't fix a broken arm." If you haven't heard it – we'll break it down for you. Essentially, it's better to fix something the right way, even if it requires a little bit more time and expertise. Our team doesn't take shortcuts and we're here to be your go-to web design gurus. That not only means delivering the best possible results for all your digital marketing needs but providing suggestions and ideas on how to get the most out of your web presence.
When we first started working with Comfortmate HVAC, the goal was a small website facelift – the team wanted to change a few images around then add and remove some of the copy, so the information was updated and accurate for their visitors. Our team said, "Sure! No problem!" That was, until, we saw the state of the website: clearly outdated and didn't match the quality of work that Comfortmate provides its clients. With our knowledge and expertise, we were able to convince the Comfortmate team to see the necessity of a complete website revamp in order to truly compete with other providers in the area.
So, we got to work building and designing a brand new, modern website. We created a gorgeous slider full of CTA's that drive visitors toward requesting a quote. We also added local customer testimonials directly to the homepage. The modernization brought the website into the 21st century and the entire team was over-the-moon in love.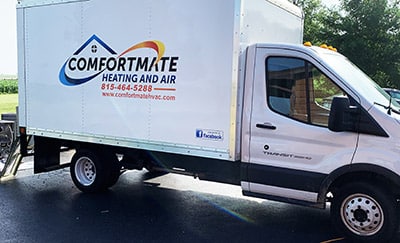 On top of all of that, we were tasked with designing and implementing a completely new look for the Comfort Zone Plan, a monthly subscription plan, which offers routine maintenance for the members heating, cooling units, accessories. We created custom graphics, including a custom logo, an interactive pricing chart, and an eye-catching membership card that is displayed prominently on the website homepage. We truly enjoyed working with the entire Comfortmate HVAC team during this project and we can't wait to provide all their future digital marketing needs!
Does your website need a complete over-haul in order to keep up with competitors? Are you tired of making small changes that don't really fix underlying problems effecting your business? Surf Your Name doesn't put band-aids on broken arms – our goal is to make sure your website is functioning at full capacity and that you're getting the results you deserve! Our team of experienced website designers, graphic designers, and digital marketing specialists have what it takes to deliver a completed project that is thorough and exceeds your expectations! Contact us here today or by giving us a call at 515-4WEB-GUY (515-493-2489) to see what we can do for you!