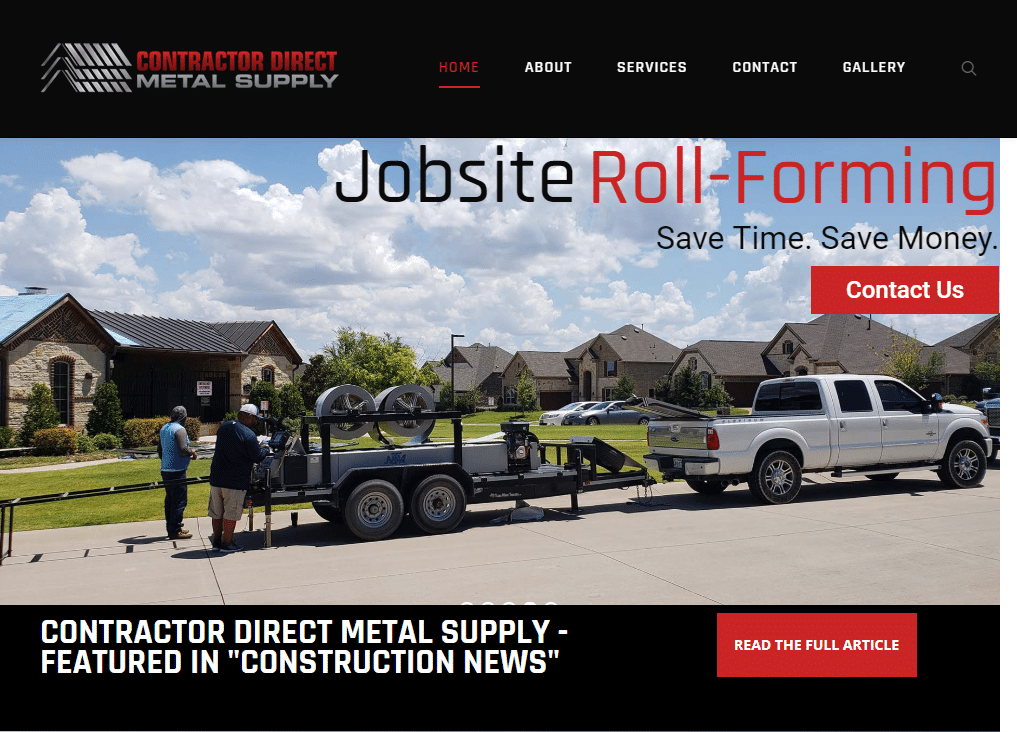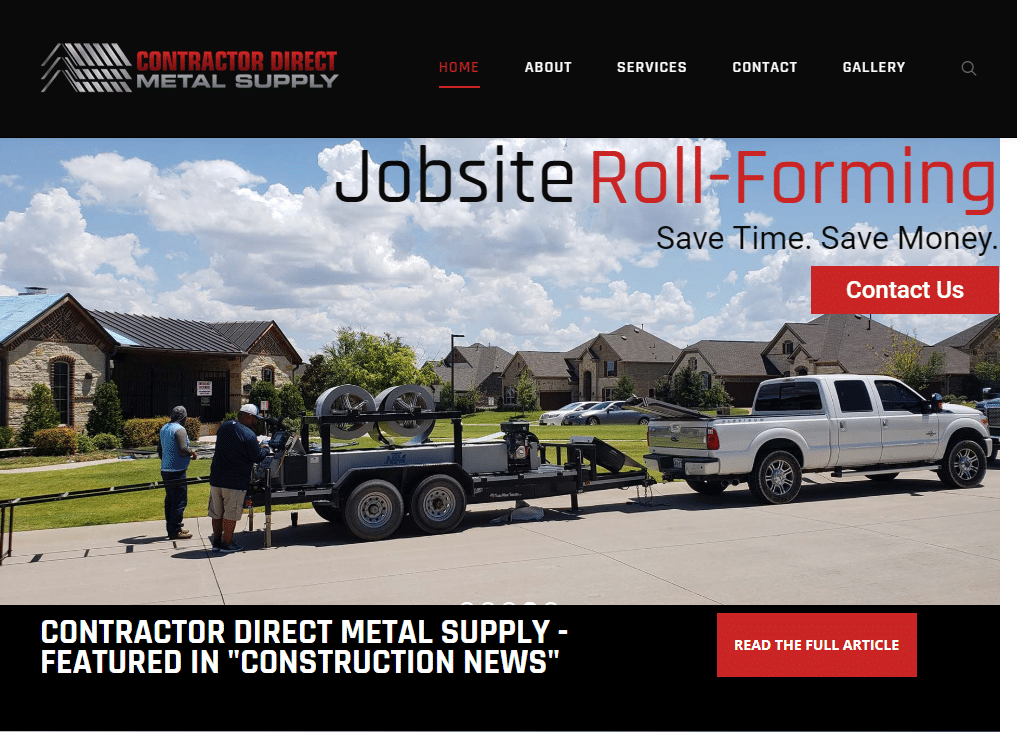 Your company's website is the perfect opportunity to tell a story and showcase the work your company is known for. If you don't have a website, you're losing out on a TON of potential clients and customers. No matter how old or young your business is, it's important to have a site that represents what your company stands for and presents your services or products in a creative and easy-to-navigate way. Contractor Direct Metal Supply approached us to build them a website that would do just that, and we were more than happy to help!
Contractor Direct Metal Supply saw a need for metal roofing supplies in North Texas, so they set out to bring the highest quality products to contractors all over the area. Their goal is to help you meet the needs of their clients and pass the savings on. They have state of the art, portable machinery, which makes them able to fabricate metal roofing products of any type directly at your job site. Contractors in the North Texas area call on Contractor Direct Metal Supply to fabricate their metal roofing supplies because of their competitive pricing. Job site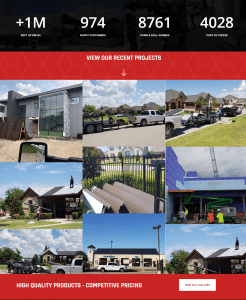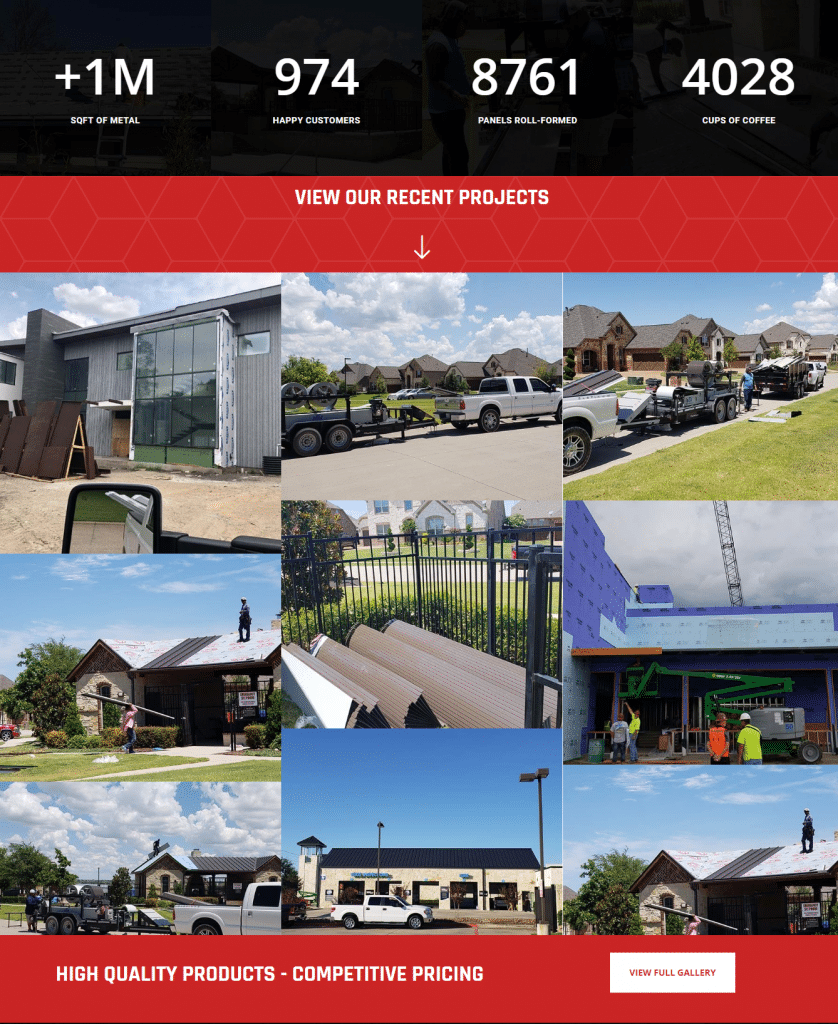 roll-forming might seem like a luxury, but it's actually far more affordable than ordering panels from the manufacturer.
Contractor Direct Metal Supply is also proud to be a female-owned and operated business, and it was important to them that this be front and center on the website. We're all about female empowerment at SYN, so we were excited to help bring this aspect of the website to life! We immediately got to work on a beautiful, dynamic website for Contractor Direct Metal Supply! We created a custom image slider for their homepage with various CTA buttons – and even embedded a custom quote form within their slideshow so that it is the FIRST thing their visitors see.
Because a photo is worth a thousand words, we created a beautiful masonry gallery where they can upload images and videos of their projects as they're completed! We also provided them with multiple contact & quote request forms to make it as easy as possible for their potential clients to reach out. Finally, we created a detailed, gorgeous timeline, so that website visitors could explore the company's story and extensive experience – lending credibility to Contractor Direct Metal Supply's team. We can't wait to work with Contractor Direct Metal Supply on several projects we already have lined up – they're truly a pleasure to work with and we're excited that they chose Surf Your Name!
If your business has a story to tell, you need to get it out there! If your website doesn't properly represent your business and appeal to your ideal customers – it isn't doing its job! You can trust the Surf Your Name team to design & develop a gorgeous, custom website that shows off your incredible work and tells your visitors exactly who you and what is important to you! Contact us today to see how we can help you get the website you deserve – fill out a quick quote form OR give us a call at 515-4WEB-GUY!