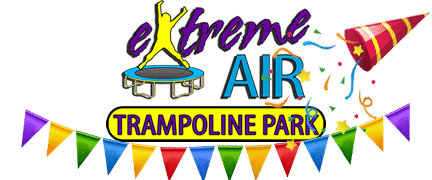 We've written a few times about the powers of animated explainer videos for your business and we've been making several successful videos with a number of our clients. We're excited to announce that longtime Surf Your Name client, Erin – the owner of Extreme Air Trampoline Park has joined our long list of happy animated video clients! We already manage Erin's website, social media pages, and email marketing campaigns, so it only made sense that we created an engaging, entertaining animated video to entice her website and social media visitors!
Extreme Air Trampoline Park is your go-to family fun destination in Ashland, KY.  The park boasts tons of trampolines, trampoline dodgeball, trampoline basketball, a Ninja Warrior course, and a foam pit. But that's not all: they recently expanded their "Low Altitude" section (for those little jumpers) to include a huge jungle gym, foam pits, more trampolines and even engaging video-projection games for the kids to play around with. Ever since we started working with Extreme Air, we've looked for new and exciting ways to engage their audience. They need marketing tools that really represent their business – something colorful, something fun, and something that will not only encourage their audience to visit the park but make them excited to do so!
That's why the Surf Your Name team knew that an animated explainer video would be the perfect marketing tool for Extreme Air Trampoline Park. We've been rolling out these awesome animated explainer videos for many of our clients – and they've produced the results that SurfYourName is known for. Our team started by writing a custom, exciting and conversion-driven script for the Extreme Air video. Then, we created a frame by frame scene-plan to determine the flow and look of the video. After the details were completed and ready to go, we worked with our professional animation artist to bring the video to life!
Extreme Air Trampoline Park's animated marketing video will be used on their Facebook, website and in various digital marketing campaigns in the future.  According to recent surveys and studies, 93% of business owners who use animated explainer videos on their website have seen an increase in user understanding of their product or service. Not only do these videos increase user engagement – but over 30% of business owners reported that they've received fewer support queries since adding an animated video to their website. However, most importantly 72% of business owners who implement animated explainer videos on their website, report seeing an increased rate of conversion!
If you're ready to get started on an animated marketing video for your business, then Surf Your Name is here to help! We'll start from scratch to create an engaging, informative animated video that increases business and streamlines your customer service interactions. There's no better way to engage your customers for an affordable price! Call us today at 515-4WEB-GUY (515-493-2489) or contact us online to find out how we can make the most exciting and effective animated video for your business!