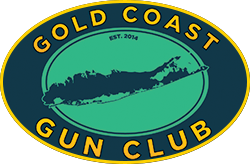 Many of our clients come to us because they have a current website that just isn't working for them anymore. Either the site is outdated, their branding has changed, or they simply have a different vision for their business or organization that their current website does not realize. That's why our team was ready to go to work when Scott, founder, and president of Gold Coast Gun Club came to us with looking for a complete website redesign.
Gold Coast Gun Club is a shooting club located in Glen Cove, New York. The club meets every Saturday from 10 am to 12 pm and shoot at the Glen Cove Shooting Range. It is located off of Lattingtown Road in Glen Cove, New York. The goal of Gold Coast Gun Club is to have a safe place that the members can call their own.  This allows the members of the club to shoot in a safe environment and meet people while promoting the sport of shooting!
We've been working with Scott, the founder and president of Gold Coat Gun Club for years. Our team has helped him with website maintenance, website updates, website changes and any other digital marketing he needed in the past, so he knew that he could trust us to give his website a much-needed face-lift. While his previous website design wasn't terrible, it had some key elements that were seriously lacking. The design didn't fit with the gun clubs overall feel, and the website didn't look professional – basically, it didn't live up to the reputation and professionalism of Gold Coast Gun Club and that needed to change. Not only was the website design in need of an update, it was also lacking some key functionality that Scott was looking for in order to grow the organization and raise funds!
We carefully picked colors and imagery that not only gave Gold Coast Gun Club a brand-new color scheme but also made the site look professional and cohesive. We styled and implemented premium contact forms so that his current and potential members can complete and submit important documents online. We then created a custom-coded "Member's Only" area where members can log into their online account and gain access to premium content like blog articles, news updates and more.
Scott was also looking to offer gun-maintenance services to his visitors and members, so we outfitted his new website with a complete online store using WooCommerce setup and added all of his offered services so that customers can place their order online. The final premium feature that we implemented for Scott is live chat – giving him the ability to instantly connect with his websites visitors and answer any questions they have about his organization or about the services in his eCommerce store.
If your website is in need of a face-lift, Surf Your Name has the experience in website design, website development and digital marketing you need to produce results for your business or organization. Our team of experienced designers, developers and eCommerce expert can give your website the update that it needs and help you start selling products or services online! Not to mention, we have affordable live-chat solutions for every business owner. Connect with your visitors, increase sales, and answer important questions in real-time! Contact us online or by phone at 515-4WEB-GUY (515-493-2489) to find out how we can help your business or organization grow!