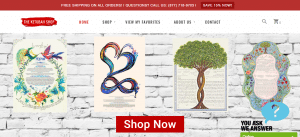 We love helping businesses grow their audience! Whether that means email marketing, social media marketing, or even a whole new website to increase their sphere of influence – our team of expert marketers, social media gurus, and website designers take pride in delivering the best results. That's why a majority of our clients trust us with ALL of their web-related projects and keep coming back for more. That's certainly the case when it comes to Ron, the owner of an existing ketubah sales website, an online retailer for beautiful, handmade marriage ketubahs.
Ron was ready to increase his audience, and while he already had a current website that was performing decently, it was incredibly outdated and had a multitude of bugs and issues that kept it from reaching its full potential. We suggested that Ron look at the option of building a new, modern website aimed at a younger audience – the couples who are getting married today! After deciding on the general look and feel of the new website, we went to work on building TheKetubahShop.com, a beautiful, modern site aimed at increasing Ron's customer base.
The Ketubah Shop offers detailed, colorful ketubahs (a marriage document used by those of Jewish faith as a

contract to love and care for each other for better and worse) from world-renowned artists. We implemented several design choices and features that will help the site produce results better than its outdated and buggy sister site. Our team designed an engaging new logo, various custom graphics and an intuitive and effective navigation system to help customers find exactly the ketubah that they're looking for.
We completed the setup of WooCommerce and added selected products to the website along with custom SEO-driven content. Because of the complexity of each individual product, our development team also made several customizations to the site that allowed for advanced product selection On top of all that, we also installed and implemented live chat to streamline customer interactions and answer important pre-order questions in order to drive sales and simplify Ron's customer service experience. Complete with international shipping, The Ketubah Shop is slated to become the internet's go-to provider of high quality, affordable Ketubahs! We also designed and tested the website across multiple platforms including desktop, mobile, and tablet to make sure that TheKetubahShop.com is 100% mobile responsive!
If you're ready to take your business to the next level and increase your sphere of influence, Surf Your Name is the solution you're looking for! Our team of talented graphic designers, web developers, and internet marketing specialists will help you develop a plan for growth that will produce results! Call us today at 515-4WEB-GUY (515-493-2489) or request a quote for your digital marketing services. If your site is clunky or outdated, you could be losing valuable customers!