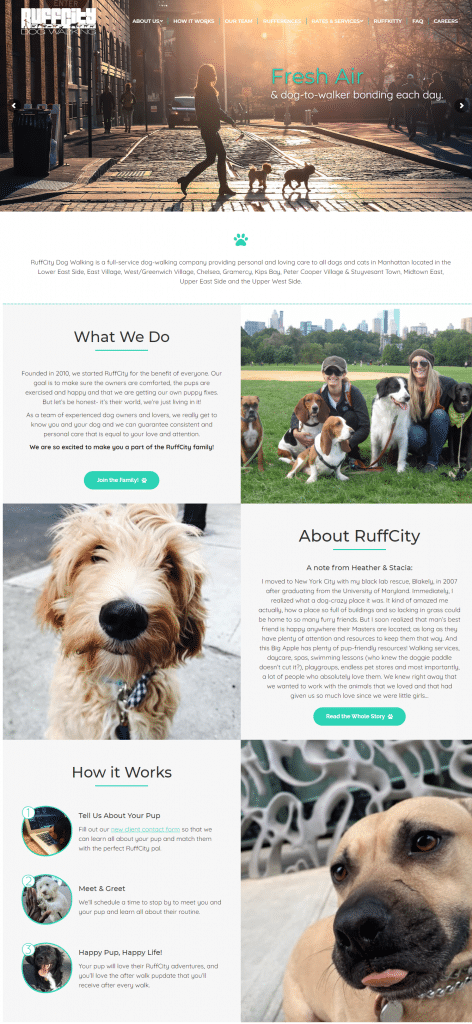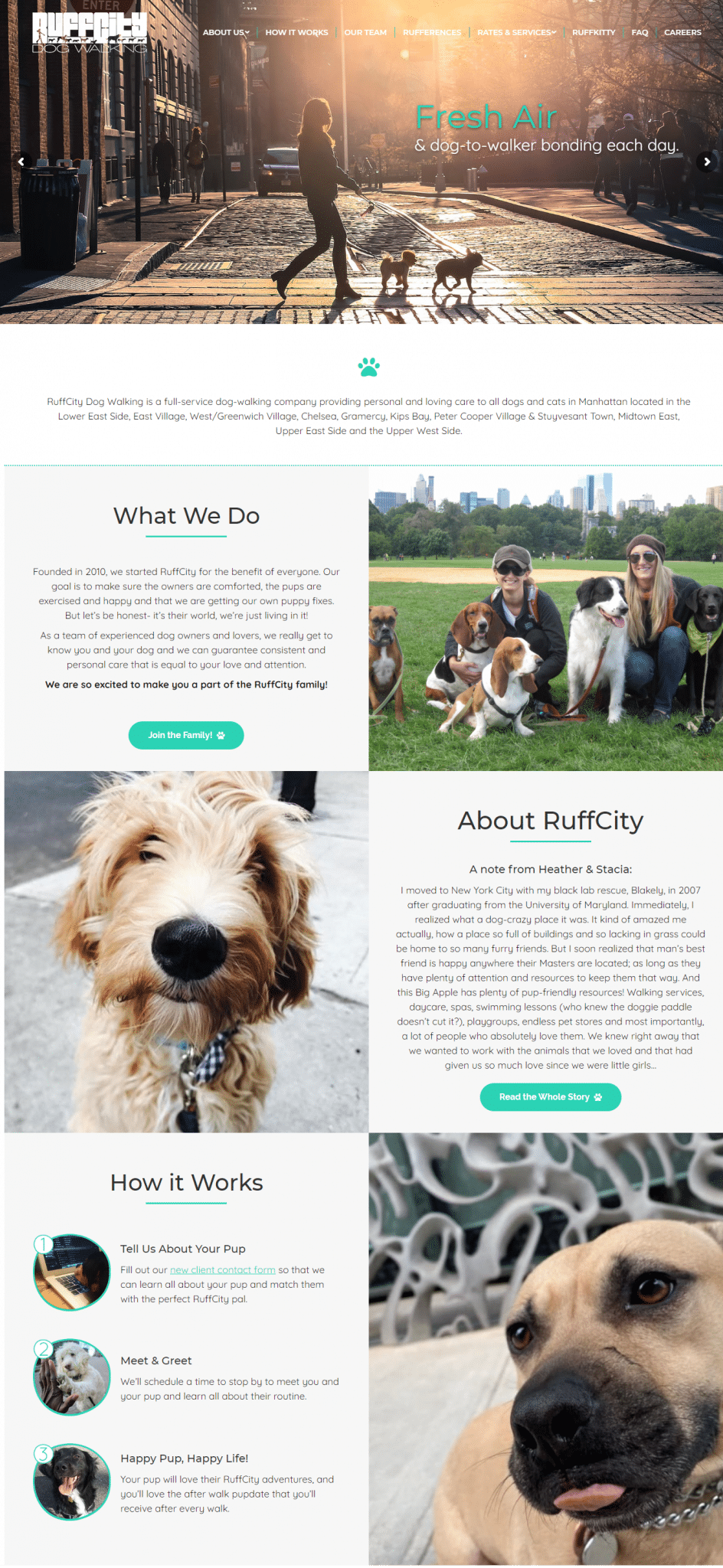 Some seriously bad apples have created a bad rap in the web development industry when it comes to dependability. We've heard too many stories from our clients about how their previous developer left them high and dry after not meeting their expectations. Client by client, Surf Your Name strives to quash that negative association by producing honest, dependable work and by building strong connections with each and every client we work with.
Stacia and Heather from RuffCity had a similar story to the ones we've heard in the past. They had hired a freelance website designer to revamp their online presence. The work had begun and was nearly complete when the developer disappeared. Not only was the website not finished, but it wasn't what they had wanted, and they knew that they needed to find someone to help them fix it ASAP! Enter Surf Your Name – our team clicked immediately with Stacia & Heather, bonding over a mutual love for dogs and a knack for silly puns. The RuffCity team knew that they could trust us to deliver the website they've always wanted and provided the customer service they deserved!
RuffCity Dog Walking is a full-service dog-walking company providing personal and loving care to all dogs and cats in Manhattan located in the Lower East Side, East Village, West/Greenwich Village, Chelsea, Gramercy, Kips Bay, Peter Cooper Village & Stuyvesant Town, Midtown East, Upper East Side and the Upper West Side. They needed a website that was stylish, informative, and appealing to pet owners in the Big Apple!
So, our design team pulled out all the stops and created a bright, feel-good color scheme and custom graphics to really bring the website to life. We added a custom slider with rotating images. We also added custom contact forms for cat and dog services that are routed directly to Stacia & Heather's email addresses, as well as a job application for potential members of their walking team. But that's not all! Stacia and Heather were looking for a creative and efficient way to display their ever-growing team of uptown and downtown dog walkers and their corresponding bios.
We knew that the solution to this problem would involve custom programming – and our expert developers quickly went to work on the project. We created a custom plugin for the website that controls each individual member of the staff and allows Stacia and Heather to separate them by Uptown & Downtown, allowing for a more intuitive display on the front end. It was also important that the plugin be easy to navigate for Stacia & Heather to add and remove team members whenever they needed to and after a brief tutorial on the process – they were ready to go!
Heather and Stacia got the website that they have always wanted – and it's already started producing leads for their dog walking services. They also signed up for our monthly security and maintenance program which will ensure that their WordPress website is always up to date and secure against cyber-attacks. Our team loved working on this project, and we're looking forward to many more years with RuffCity as a member of the Surf Your Name family!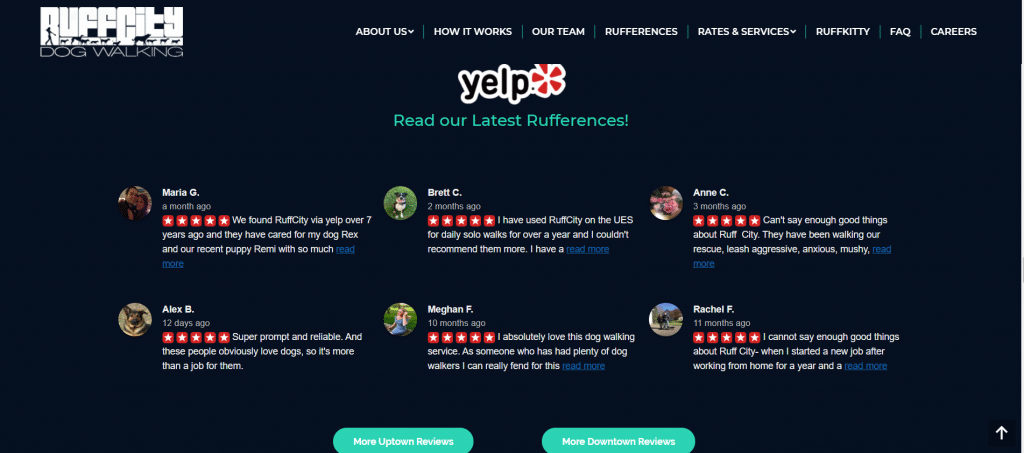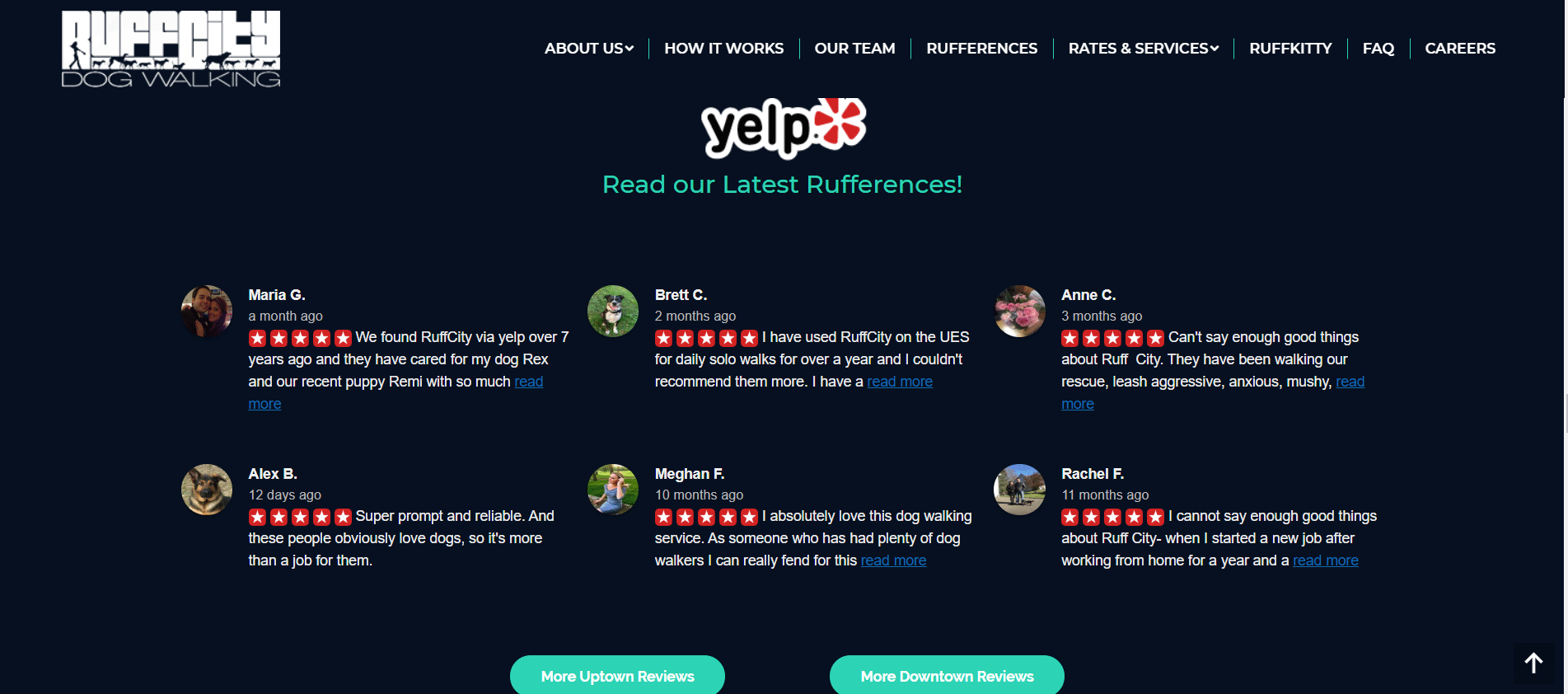 If your website isn't cutting it or your flaky developer is MIA – we're here to help! We'll deliver the simple solutions you need in order to make your website look and function to its fullest potential. Contact us or give us a call today at 515-493-2489 for a FREE quote!