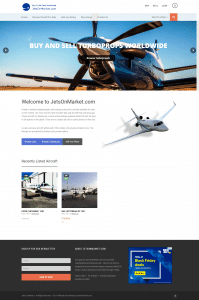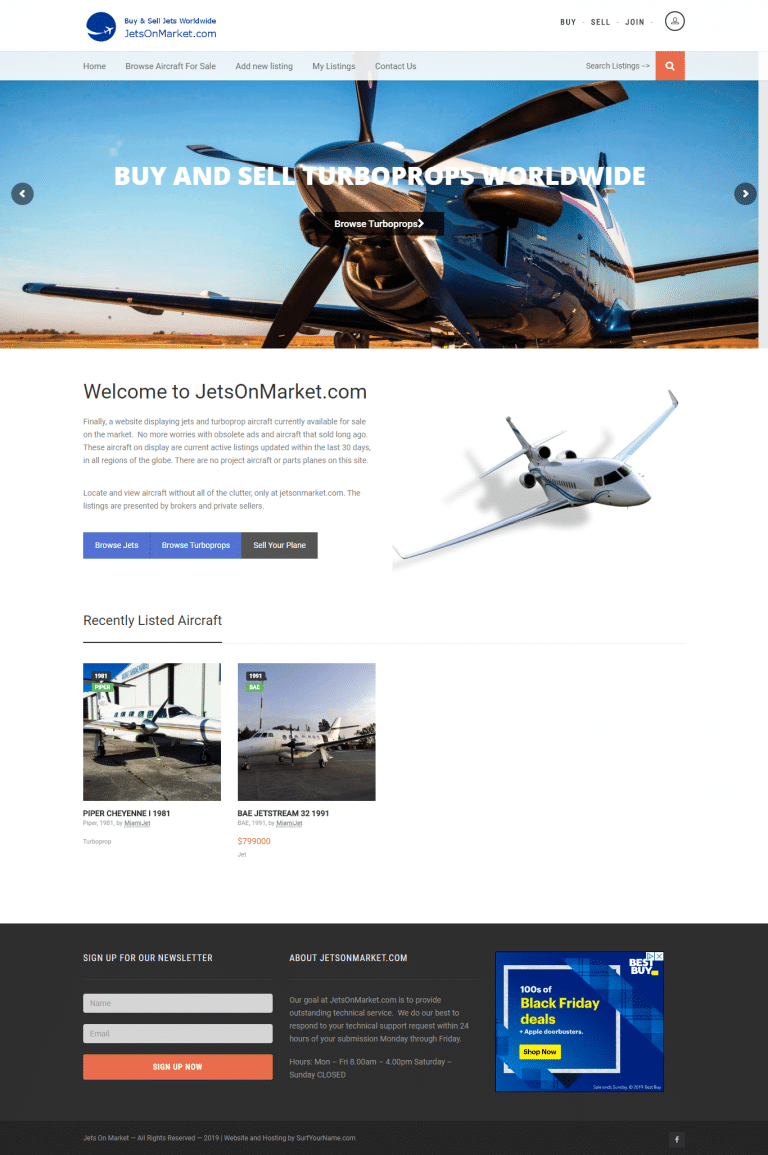 We've been working with clients in the aviation industry for years now. We have experience building websites for aircraft brokers, crafting emails to promote their latest aircraft listings, and doing social media marketing. With our skill and experience in the industry no wonder we keep getting new clients who want to sell airplanes.
Not long ago we met with a company called JetsOnMarket.com. They wanted to create a WordPress listing website that allows anyone to advertise their aircraft for sale. Since we've worked with several clients in the aircraft industry, we knew exactly where to start and decided to divide the site into two categories – jets and turboprops. We discussed all aircraft specifications with the clients and how to break them up between the two categories. Having done that, we started from scratch developing a completely new aircraft listing website.
One of the most important parts of JetsOnMarket.com is the process of uploading a listing. We designed a page with a form that allows a seller to add their listing without missing a single feature or specification. JetsOnMarket will even recognize your aircraft make and show you all the models available to choose from, which makes the listing adding process even faster. The result is a fully responsive page that easily adds a listing with custom specifications.


What happens after a listing is added to the site? Well, the aircraft is automatically published on a personal listing page and published on the home page. Recently added listings are displayed to help users sell quickly and efficiently. We created a custom user profile page for registered users to edit their listings after they've been completed. It's very easy to change the price or even add new photos!
On the buyer side, we worked diligently on individual listing pages to make it very user-friendly and easy to browse through. All the information for the aircraft a buyer is interested in on a single tab. It only takes a couple of clicks to book an appointment with a seller or send them a message. To keep tabs on a listing while browsing for other aircraft – users can hit save and can come back to it later, on the profile page.
Our web design team also ensured that the new homepage was helpful and responsive. All pages are accessible through the home page. We featured a customized drop-down listing search bar to find an exact make and model easily.


As with any website, there were many small elements we crafted to make the whole user experience simple and enjoyable. Check out the website's look and feel JetsOnMarket.com. It's already live, so if you have a private jet or a turboprop to sell, you're more than welcome to register and add your listing! We will continue to work on the website by performing monthly maintenance to always keeping JetsOnMarket secure, updated and running smoothly.
SurfYourName has years of experience in website design. We build eCommerce stores, landing pages for ad campaigns, custom listing websites, portfolio websites and many more. We know what it takes to make a great website and are ready to deliver the best results possible.
That's why our clients keep working with us and bringing new projects. Join our long list of happy clients if you need a website of any kind – we're always ready to create something truly unique for any type of business. Contact us today to get a free quote on your new mobile-friendly, dynamic, and results-driven website!