It has been an exciting few years at Surf Your Name – we have had SO much growth and excitement – new clients, new team members, a new website & a brand new office space!  We've been truly humbled by all of the support we've received from our community and our clients – and to top it all off… we've received another amazing award!
Surf Your Name has been named by Expertise as one of the 15 best Digital Marketing agencies near Virginia Beach. We're so honored to be awarded this title & it means the world to us that our community puts so much trust into our digital marketing and website design strategies. We only hope to keep providing amazing, tangible results and unmatched customer service to the wonderful community of Hampton Roads!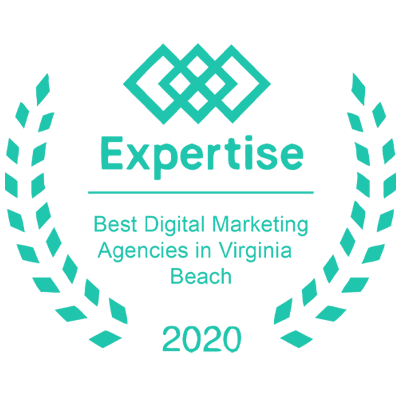 So what is Expertise?
They have a simple goal: helping you locate and hire the best professionals in your area. They handpick their choices for each category and a member of their staff manually reviews each company on their list to make sure they're only recommending the absolute best in their field.
They rate the companies in each industry on 5 key points. Their reputation – they take into account the company's history of happy customers & great service. Their credibility – they look at the company's other awards, certifications, and accreditations. Their expertise – they only list companies that are masters of their craft… this is based on years of experience and education in the field. Their availability – Expertise lists only companies who are consistently available and responsive & finally, Professionalism – the companies on their list are rated based on providing service with honesty, reliability & respect.
Based on these key points, we were chosen to be part of this list! It's not often you're rewarded for things you do on a regular basis, but we pride ourselves on delivering high-quality finished products to our clients with professionalism, customer service, and expertise.
We'll wear this badge on our website with honor, as we couldn't have gotten this far without the support and feedback from our amazing clients & community. We're so happy to keep providing these services – and hopefully, we'll continue to keep our place on this list for years to come!
Remember – when you're looking for a website designer & developer who will give you and your business the best possible results while treating you like family, look no further than Surf Your Name. We have incredible website designers, developers, and digital marketing specialists on staff ready to build your dream. If you're ready to grow your business with one of the best digital marketing agencies in town – give us a call today at 515-493-2489 to find out how we can produce results for your business!