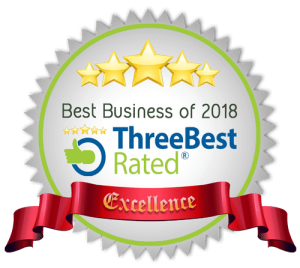 We strive to deliver the best and most comprehensive web design and digital marketing services to small business owners all over the United States. But even though we provide incredible web design, email marketing, and social media marketing results to clients far and wide – there is nothing more rewarding than serving your own community. That's why we were so excited to learn that we had been selected as one of the three best-rated web design and digital marketing agencies in Norfolk, Virginia, where Surf Your Name calls home!

Three Best Rated is an amazing website resource that helps you to find the best businesses in any city without any effort along with reviews from Facebook and Google. They display all information for each business including Name, Email, Phone and Website URL right on their website. Being listed on this awesome website can not be purchased, so only the best of the best from each city is featured based on ratings, pricing and customer satisfaction.
Three Best Rated aims to help serve local communities by listing only the best local businesses instead of big corporations who have an office presence in your city. Three Best Rated believes that local businesses provide much better and personal services than corporations to you and your family! Head over to their website to see our listing and find other local businesses who provide the best services!
At Surf Your Name, we understand that online reviews from satisfied clients are one of the most powerful marketing tools available today. And we also know that we couldn't have been selected for this amazing honor without the incredible reviews and ratings from the members, both past and present, of our ever-growing web design family. Our reviews on Facebook, Google, Thumbtack and Yelp are a huge factor of being selected as on of Norfolk, Virginia's three best web designers.
When looking for a company to build you an amazing website, produce results driven email marketing campaigns, or manage and maintain your business' social media accounts, you deserve nothing but the best! And we've been providing the best quality services to our community in Norfolk, VA for over 10 years! If you need help growing your business, Surf Your Name is here to help! While we work hard to provide the best service in the industry on a daily basis, we would like to thank all of our wonderful clients who helped make this possible. Give us a call today and 515-4WEB-GUY (515-493-2489) to find out how we can produce results for your business!
Here are some of the awesome reviews that helped make this happen:
I have worked with Erik & his staff at Surfyourname for a few years on a variety of projects and have been very happy. In the last few months a critical, high visibility project came up on a very aggressive time line. During this time Erik & his team really stepped up, delivered on a very tight schedule offered insight & suggestions and kept up with many modifications along the way
Surfyourname has really made a difference for me
– Steve S.
Erik and his team did a phenomenal job from start to finish! As I was searching for web designers, he stood out from the rest because of his professionalism, expertise, and interest in working with us on a long-term basis. As we were working on developing our website, he was attentive and prompt with all of our requests. He was also able to stay within our budget and was mindful of our needs, which was a huge plus for us. Our website is awesome, and we couldn't be happier with it. I love that Erik and his team are easily accessible and available to make any future changes to our website whenever we need them. I would highly recommend Erik and Surf Your Name to anyone looking for a website designer!
– Karina G.