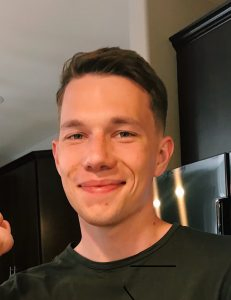 We are excited to announce that SurfYourName's team is expanding again! We continue to grow our team alongside the quality of our work. Every year we become more and more competitive among other web agencies. We deliver the best results in the shortest time while providing 5-star customer service to our clients. Finding the right candidate always takes a lot of time and energy, but we successfully completed this task. We are thrilled to welcome our new administrative assistant, Ruslan Makhmudov, to the SurfYourName family.
Ruslan came to us all the way from Russia. He grew up in the eastern part of the country, in a city by the sea called Vladivostok. He attended the Vladivostok State University of Economics and Service in Vladivostok where he earned his bachelor's degree in marketing, and since then he has worked as a marketing specialist and PPC-campaigns manager in different industries. He has a combination of experience and skills that will help us grow our and our clients' business and web presence. Now that Ruslan has met the team, he'll be jumping right into the managing of online chats, social media marketing, email marketing and helping clients with all their marketing needs.
Surf Your Name specializes in maintaining the web presence of our clients and providing result-based marketing. We focus on e-mail-marketing, web development/design, social media marketing, Pay-Per-Click advertising, search engine optimization and any other aspect of online marketing. Our results-driven team strives to make your web presence deliver results so that you can get back to what's important: running your business. SurfYourName has the knowledge and expertise to know what works and what doesn't for businesses. We offer free performance reviews and would love to help improve your company's web presence.
Call 515-4WEB-GUY (515-493-2489) to find out how we can make your web presence start working for you!  Make sure to welcome Ruslan to the Surf Your Name team when you talk to him!