We have been BUSY this year at Surf Your Name – we've added a new member to our team and so many new clients to the Surf Your Name family. It's been a while since we wrote about one of the SYN family's newest additions, so we're excited to announce the official launch of happy client Susan St. Martin's brand new real-estate website MedfordOregonLiving.com
Susan specializes in consulting with the "Mature" members of our generation and aiding in their transition from one season in their life to the next. Whether selling and downsizing or buying a more suitable home for this phase of your life, the people of Medford, Oregon trust her to help take what can be a stressful event and make it more manageable.
She is dedicated to transactional excellence for every listing and sale. What this means for you is that she will oversee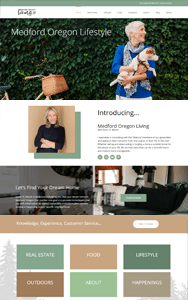 every detail of the real estate transaction. The transaction is far from over once an offer has been accepted. She monitors inspections, appraisals, title, escrow and loan processes. Susan St. Martin is committed to her clients before, during and after a sale. And she needed a website to showcase that dedication.
Susan had sent us a list of websites she liked the look and feel of when we initially spoke about the project. It was clear that she was looking for a clean, modern website that had some pops of color and a very professional and luxurious feel, so our team took to WordPress to develop the site. We used the Avada framework to give us a basic layout for the website and built all of the custom elements around that wireframe.  Our expert team of website designers worked diligently on the color scheme and even created a custom logo for Susan's new website.
We also added custom graphics through the website to give the site a more unique look & feel – we want every website we develop to be a bespoke piece that is specific to our client's business and really makes them stand out above the competition. We created a custom slider complete with lifestyle images that our team was able to procure. We then integrated Susan's current IDX home search into various sections of the website – all the user has to do is click "Search Now" and they're transported to all of Susan's available listings. And finally, we included testimonials of Susan's past clients throughout the website to really show off her credibility and customer service.
Susan was absolutely thrilled with the websites final reveal and we hope to work with her many projects in the future. We're happy to have helped her bring her business into the 21st century with a custom WordPress website that is truly professional and elegant!
If you have a business – you need a website. It's as simple as that. Don't get caught without one in the digital age. Surf Your Name is known for bringing small business owners into the 21st century and we can't wait to do the same for you! Our incredible staff will work with you every step of the way to make sure you get the website of your dreams. Contact us today to get a FREE quote – or Call NOW at (515) 493-2489!