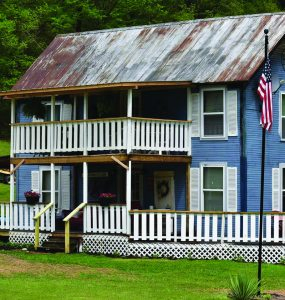 If you have a small business – you need a website. That's just how it is in the digital age. And at Surf Your Name, we believe that every business should have a beautiful, affordable website that meets all of their needs and ultimately, a website that produces tangible results for your business.
Tammy, the owner of Taylor Made Farms was no exception to this rule. She needed a website for her new business, a family-owned, Victorian-inspired farmhouse available for vacations, events and weddings. She knew that Surf Your Name could design and develop an elegant, beautiful website for Taylor Made Farms – and we were happy to do so!

Our team of graphic designers, website developers, and digital marketing specialists got to work on designing the look and feel of Tammy's website. We created a unique, eye-catching logo, implemented custom made photo slider, and added galleries showing off the beautiful farmhouse and amenities that Taylor Made Farms offers to their visitors.
The client also needed an availability calendar, so that the visitors of the website could determine whether their preferred vacation of event dates are available. So, we researched and configured software that allows Tammy and her team to block out dates during which they are completely booked. We also added various contact forms that deliver directly to the company's email inbox, so they can pursue leads and answer questions.
The website just launched and is already producing real, tangible leads – visitors interested in wedding packages and family vacations have already used the various contact forms to reach out to Taylor Made Farms and their bookings keep filling up! If you're ready to grow your business and reach a new, online audience, Surf Your Name is here to help. Our expert team of designers, website developers, and digital marketing specialists have what it takes to make your online presence start working for you! Call us today at 515-4WEB-GUY (515-493-2489) for a FREE quote!