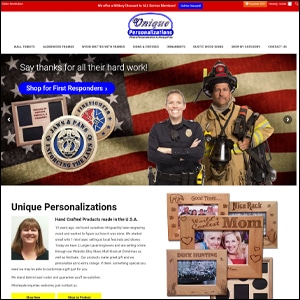 We hear it all the time… "If I would have gone with you guys in the beginning, I would have saved a TON of time and money" or "Our last developer really screwed up our website and then disappeared!" There's no doubt that hiring a website developer can be a scary thing! In some cases, you're putting your livelihood in someone else's hands. But it's also really necessary – if you run a small business you don't have the time to devote to building or maintaining your company website. We at Surf Your Name want to change the bad rap that web developers have by providing unmatched dependability, knowledge and customer service. So, when Mike & Shaun, owners of Unique Personalizations came to us looking for help, we couldn't wait to give them the website they've always wanted.
Ten years ago, Mike & Shaun found themselves intrigued by laser engraving wood and wanted to figure out how it was done. They started small with just 1 mini laser, selling at local festivals and shows. Today, they have 2 Larger Laser Engravers and are selling online through their Etsy Store, at Mall Kiosk at Christmas as well as festivals. (And now, thanks to Surf Your Name, they're selling on their brand-new responsive website!) Their products make a great gift and they personalize at no extra charge. If there's something special you're looking for, they may even be able to customize a gift just for you. Like any reputable small business, they stand behind each order and guarantee you'll be satisfied. They even offer wholesale opportunities!

When we first started the project for Unique Personalizations their website was a mess! The backend was complicated and set up incorrectly and the homepage and interior pages of the site were boring. Those factors combined with confusing navigation and intensely long load times made their website unappealing to customers and just plain difficult for Mike & Shaun to use! At Surf Your Name, we've seen all of these issues before, so we knew exactly how to fix them. We configured a simpler, more streamlined backend for them, reduced load times significantly and gave them the colorful look and feel they'd wanted from their original developers. Our graphic design team also created custom graphics for the new site that really catch the visitor's eye!
After the design was completed, we made several custom coding additions to their individual WooCommerce product pages. Then, we installed and configured Trust Seals on the website's footer, so that all of their visitors know their website is secure and verified! Head over to UniquePersonalizations.com to check out their new website! We had a wonderful time working with Shaun and Mike and we already have several other projects on the horizon. We can't wait to help them with Social Media management and any other digital marketing projects they need!
When you're hiring a website designer or developer – it helps to hire the right one the first time around. Skip the guessing and go with a company who has the skill, dedication and customer service you deserve with amazing reviews on Google and Facebook to prove it! Just take it from Shaun and Mike…
"There isn't enough time to tell you how great Erik and Mia are. Helpful, efficient, communication the best. Built us an awesome website to be proud of, created graphic's for a site we hadn't even thought about, 10-star rating from us!!!!"
Contact us TODAY for a FREE quote! We can't wait to work with you!