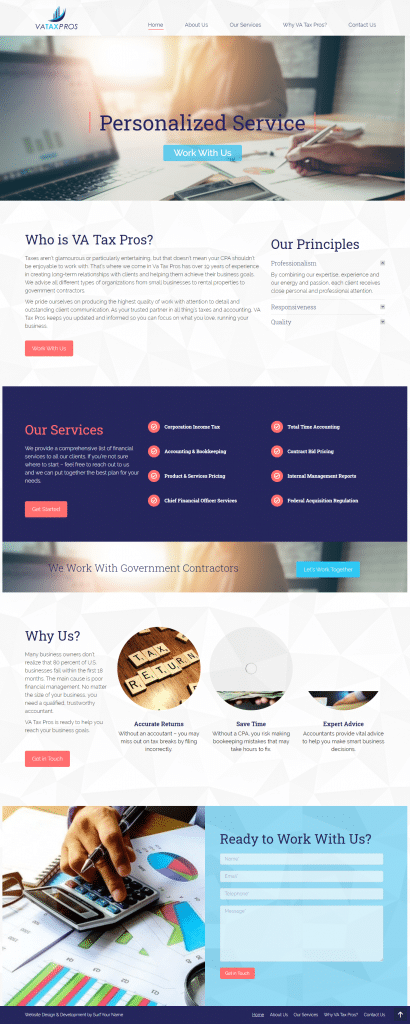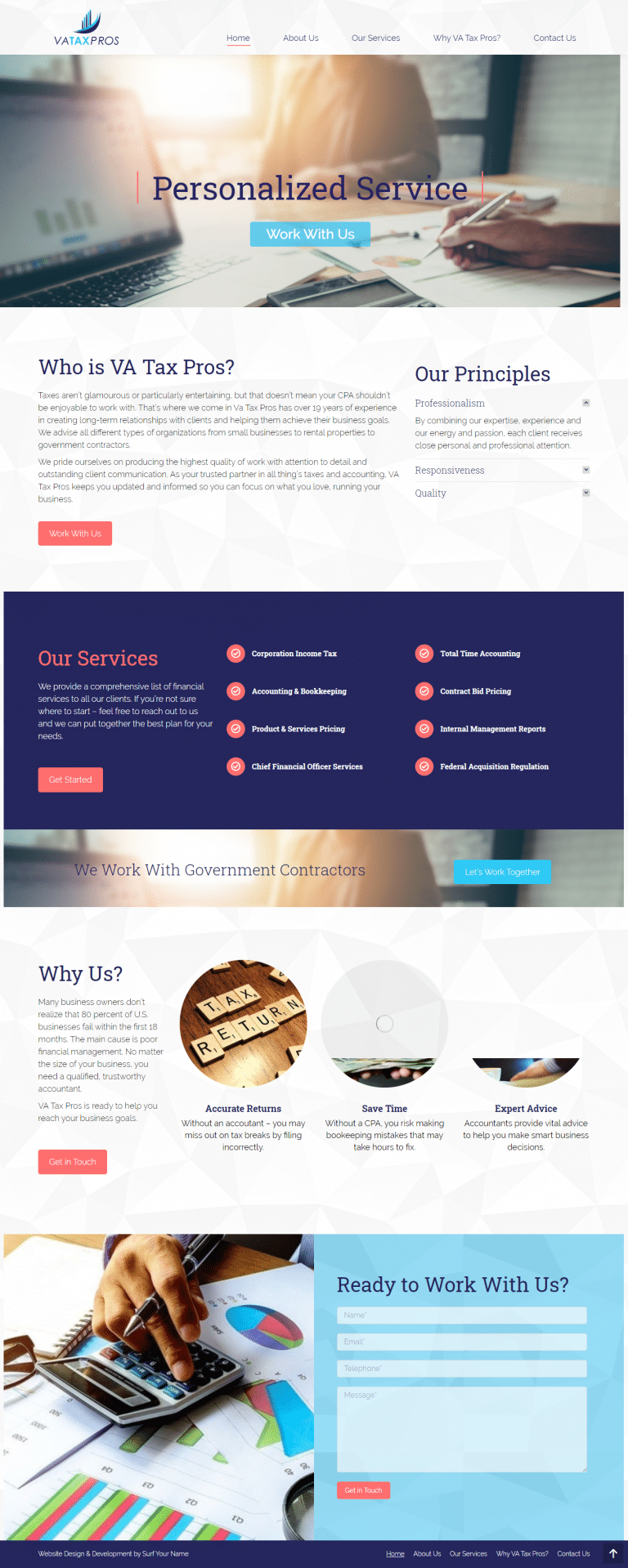 We're all about building websites. Can't you tell? Well, part of the reason why we love it so much is that we take the personality and highlights of businesses and illustrate them to the rest of the world online. Clients come to us with their vision of what they want their website to look and feel like and we know how to deliver. Even on the technical side that doesn't seem very fun or entertaining, there's artistry in it.
Another industry that isn't known for being very fun is accounting. The reoccurring image is pretty much the monotone teacher from Ferris Bueller's Day Off, but not anymore. VA Tax Pros came to Surf Your Name wanting a simple, clean, and modern website for their CPA office. They needed a fresh, new logo and written content that would set them apart. Professional with personality.
VA Tax Pros believes that while taxes aren't glamorous or particularly entertaining, that doesn't mean your CPA shouldn't be enjoyable to work with. VA Tax Pros has over 19 years of experience in creating long-term relationships with clients and helping them achieve their business goals. They advise all different types of organizations from small businesses to rental properties to government contractors.
We started with their logo. We created a design that is fluid with subtle nods to the Hampton Roads coastal area they're based in and financial graphs. The file is a vector graphic so they're able to use it anywhere, on print or digital platforms and however big or small they need.
The next step was the website. Currently, the most modern site design is one-page with continuous scrolling that, essentially, holds all the pages of a website into one where the homepage has different sections. The navigation bar can lead a user to each section, or the user can view the whole site on just one page. It's a really interesting design that works intuitively with how we use technology. I'll stop before I geek out too much. This site design also is optimized to be 100% responsive across all devices, meaning it's mobile-friendly. Results-driven SEO is also built in to increase website traffic and accomplish their goal of lead generation and web presence.
While we designed the site, VA Tax Pros also tasked us with writing website content. Along with the design, this is the part where we truly incorporated their personality. They wanted to highlight how their services include government contractors, their years of experience, and how working with a CPA can be enjoyable.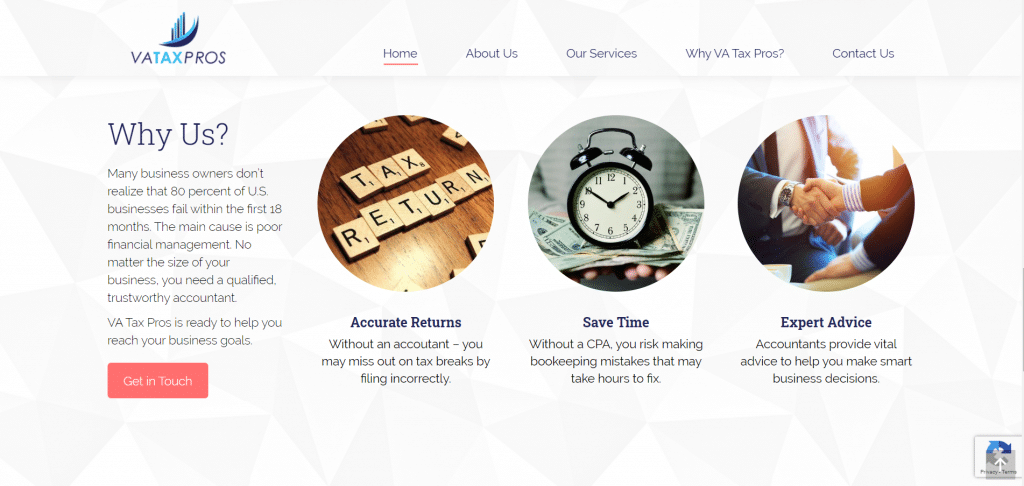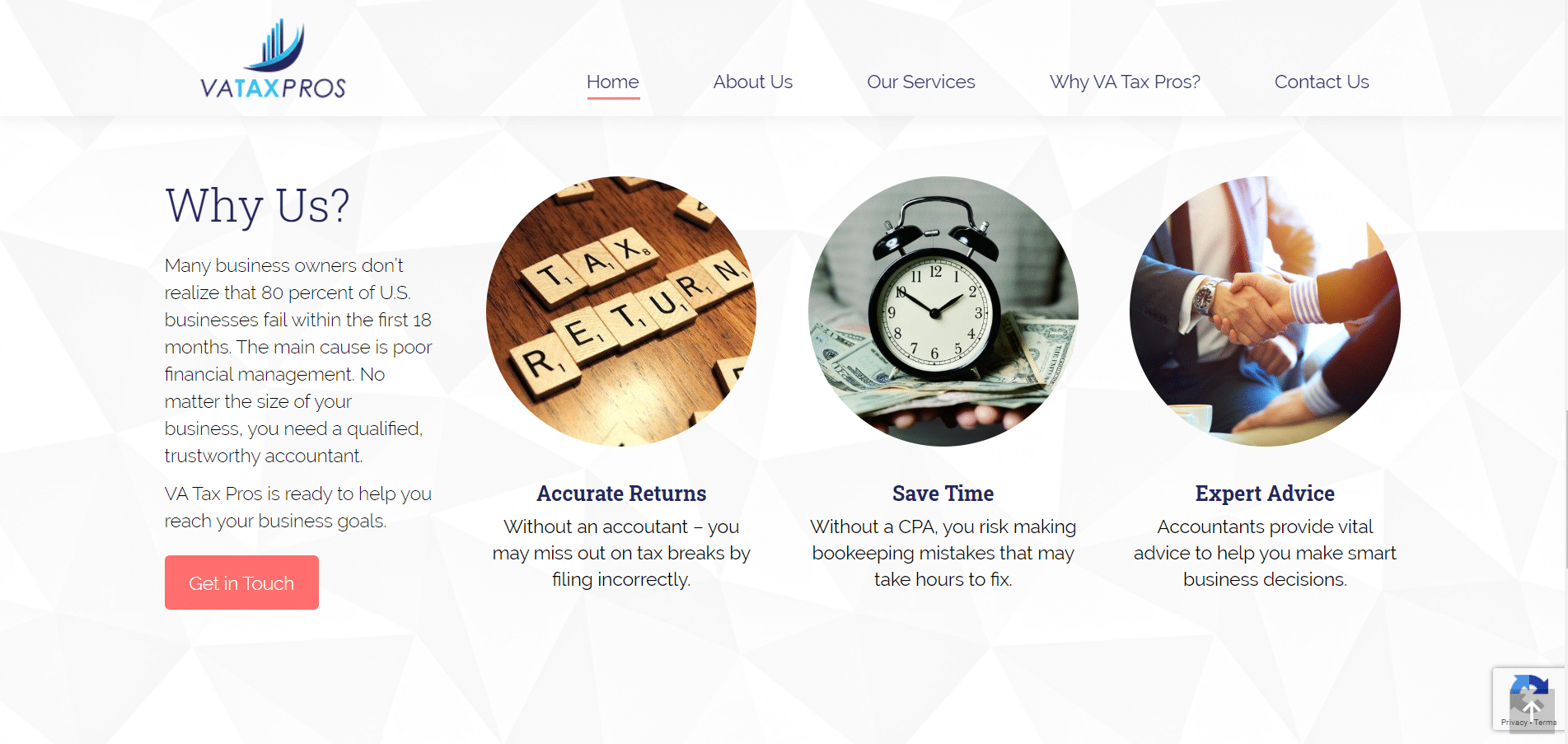 This site was incredibly fun to create, and we loved working with VA Tax Pros. We're excited to work with them for future projects. Do you need a results-driven website for the mobile age? Surf Your Name is here to help! Give us a call today at (515)493-2489 for a free quote and let's create something amazing.