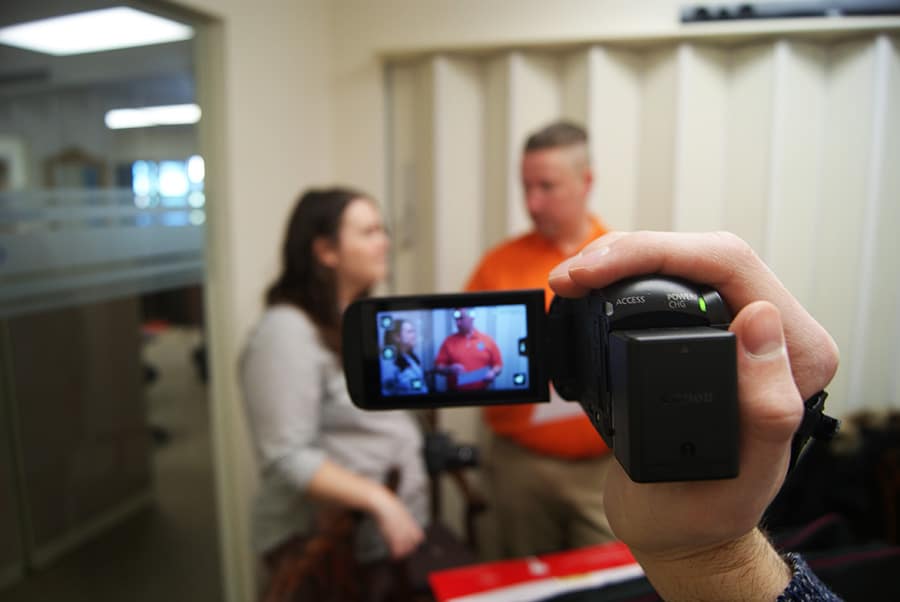 A picture is worth a thousand words, especially when people would rather look at a photo than read a couple of sentences. With this idea in mind, the Surf Your Name team decided to spend the first half of our usual working Monday taking headshots and creating some original content for social media along the way.
First, we came up with a shot list—it's a good thing to have one before a photoshoot. We always bring a shot list when we take pictures for both Surf Your Name and our clients. With a shot list, you don't have to think of things on the fly and waste your time discussing what everyone wants the photos to look like. With a good list of shots, everyone already knows what to do. We have two locations for our headshots: a brick wall outside the office and with greenery around the office.
During the photoshoot we also took some behind the scenes photos, mostly fooling around and laughing. After we were done with the headshots, we took some pictures for our website, emails, and social media. We know where to find the best stock photos, but it's so much better when you have the photos you took.
After we edited the photos, the first place we used them was our email signatures. We know how to create awesome email signatures and have successfully done so for several clients, but it was a treat to use our skills for our own branding. If you haven't seen what our current signature looks like, here's an example: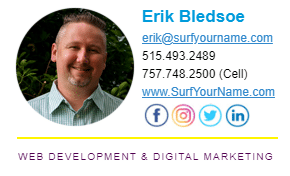 Professional headshots put a face to a name and title on an About Us section of a website. Especially, when the photos all look cohesive and have a bit of personality to them, it makes your business more friendly and easier to reach out to.
Our team has tons of photos in our portfolio and is always ready to snap some more! We offer a wide variety of content creation services, and professional photoshoots are one of them. You can learn more about how we do photoshoots for our clients in the article about our latest photoshoot for Heritage Wealth Management Group.
If you need to freshen up your website with a custom-made content or feel like your team can benefit from a professional photoshoot, you know who to call. Surf Your Name can take beautiful photos and videos to capture your business and show it off to the world. Contact Surf Your Name today if you want to schedule a professional photoshoot.